Inspired by RDZ's post mortem series, I decided to a retrospective on my own projects.
Necropolis Series
aka. Burial Mounds, Tales in Sand, Eternal Strife
The Necropolis series was probably the first legible map I had ever done.
Legible as in you could play a game of it and not feel like it had massive feature holes.
It started out of a random idea, "what if everyone was dead and the reanimated armies of ancient kings were the only people left".
Strange, but thats how it began.
The main points were.
1.) Deserts, an enviroment type I really liked. Also the sandy type wasn't well represented in wc3, whose deserts were more scrubland or savannah.
2.) Skeletons, but more importantly an alternative take on undeath. Not the creations of a gothic necromancer, but the citizens of a civilization past.
3.) Units as resource. The idea was that your basic skeletal mob provided bodies on the field but also a resource, that being corpses.
With no real lumber and gold being more or less free, the main resource of necropolis was intended to be corpses.
More on that below.
As with all my maps, I probably spent way too much time on a backstory and world that rarely ever shone through in the actual game.
But hey, I enjoy it.
This resulted in a rather unusual setting for the map.
I come from a culture there is a belief in ancestral spirits, where during a certain festival; offerings of food and other material goods (in symbolic form) are left to the dead.
As a result, I decided that the necropolis was to be a city of ritual. A fully represented city of courts, temples and markets.
Built by the descendants of those interred there to serve the dead in the afterlife.
The communal burial of generations of a culture's dead.
The anchor which tied the living and the dead.
There were also at least two overarching plots (of sorts).
One which involved intelligent carrion bugs (who were considered sacred beasts) trying to supplant humans as a the dominant sentient life form.
The second, being the reason for undeath; the killing/chaining of death deity (a goddess I think) in a bid for humans to become immortal. (Which I guess worked out, though not the way they expected.)
All that world-building aside, the plot never did address the most important part: Why the player was battling for control of crypts against other legions of undead.
In later versions the reason given was the kings (players) were continuing the feuds they fought in life.
But that was added later, so it doesnt quite count.
Now for how the game actually played.
Necropolis is firstly about spamming skeletons, the degree to which mattered changed over time (and in my view) not for the better.
It is secondly about how many ways you can build an ability from a raise dead base. ie. how many corpse affecting abilities could one come up with.
I personally see Necroplis (in its final incarcnation) to be a victim of over-development.
It is by far the most polished version, but the core concept of the game arguably jumped the shark somewhere along the line.
That line I guess was the implementation of hero classes, items and fixed base locations.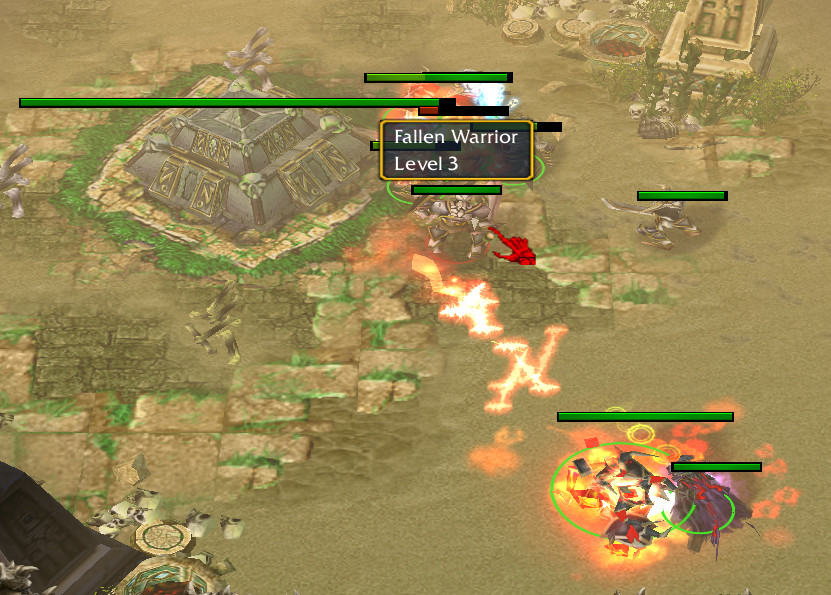 As for the history of commander type units in Necropolis
>In the oldest versions, the player had a pseudo-hero unit that carried and aura and had bigger stats.
>Then came the era of the Lich, where players had a hero that could be kited out in various ways to support their army.
Initially with a predetermined set of kits with names such
support
or
siege
, later with a fully customisable skillset. Limited only wc3's lack of ability of place the same ability into an alternate slot, though theoretically a huge amount of object editor data could support this.
In this version the hero was a (fairly) balanced commander/warrior mix as opposed to the original aura-bot beef.
>The final version was the implementation of real hero classes, with real heroic stats and the stuff that comes with. Namely immunity to basic units and being the strongest unit after a certain point.
A total of 12 ranging from ancient kings to beetles, timeless heroes and mountain demons.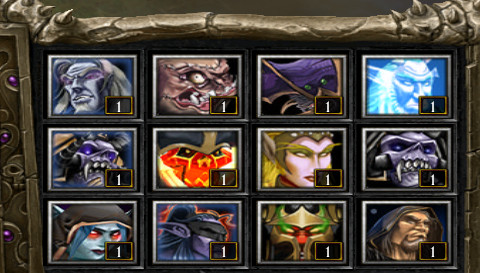 Then came the items, just huge numbers of them.
6 item shops, almost all filled to the brim, complete overkill in item variety; most of which was meaningless.
Made worse by the fact most of them were either uninteresting (+flat stat) or unfitting for the genre (more suited to an arena, aos or any hero centric combat map)
Prime example being
Nassan's Mangler
, whose unique effect was "
hero's damage deals additional universal damage to enemies around you
"
To be fair there were some gems that blended the "awesome character item" with "something that makes sense in a army centric map".
Sacred Flame
gave a %health regen aura, effectively turning the hero into a fountain; simple but awesome.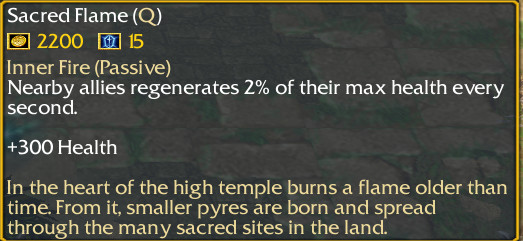 Both seemed a good idea at first; involve more of the world's lore into the game.

Naturally, it had the side effect of making the game very hero focused.

It is true that basic Skeletons had always been weak individually, but the older versions the game centred around the player augmenting this frail horde as their main presence on the battlefield. In the final version, they were just there.

Fixed bases were a terrible idea, I dont know why I did that.

For clarity, the map went from

> random bases (in a FFA context)

> fixed but fluid bases (you could conquer a Crypt and move all your holdings even if the original was taken)

> Fully fixed unmovable bases that contained shops and were not in anyway associated with the objective; Crypts

Then there is the minor stuff, like how base troops went from being spawned via raise dead to just auto spawning from crypts.

In practice, there was little difference, the Lich almost never had to manage mana and each Crypt spawned it's own corpses.

Thus as long as the Lich as camped at a crypt, there effectively was no difference.

However for some strange reason, this made the game feel awkwardly like footmen wars and not in a good way.

Basically the gist of everything is that a strategy game about empowering a mob became an AOS where players could control the creep-wave.

At least it ended looking shiny.

__________________