I use Gmax with YAGG to grab output from the listener, NeoDex script..
I use Notepad++ to edit my .mdl file.
I use MdlxConv to convert my .mdl file to .mdx.
I use Warcraft3Viewer.
This is a static chicken model based on
this
.
I will be attaching my .mdl file and my .mdx file.
This is my
.gmax file
.
In Gmax, the model is perfectly fine. I don't know if I made any mistakes, but I doubt so. Polygon count is 684.
In Warcraft 3 and the World Editor, this happens: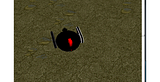 The wing on the right of the chicken is crooked and weird'd.
Here's a little story:
I started UV unwrapping on the right wing. I mirrored it as an instance, forming the left wing.
The right wing was crooked, the left wing proper.
So I deleted the right wing, and mirrored the left wing, trying both times as an instance as well as a copy.
The right wing remains crooked while the left wing still looks proper.
I don't want to re-model the right wing, although it will be an easy job...
Could someone point me in the right direction or tell me why this is happening?
Thanks! <: