Oh, I figured something like that. I'm just wondering if it's a big enough deal to try and fix. (Strange that it doesn't seem to mess with Red or Green or some of the other colors...)
You might want to indicate that people should use Spells that have a Casting Time; his Spell animation is great, but lengthy, and spells are cast long before he reaches his peak, I noticed.
I'm struggling now to find a good place to
shove this in
incorporate this excellent model... I rather like(d) the idea of a sort of passive "locust-swarm"-esque circling-guardian-summon, but that fails to take advantage of his excellent Spell & Portrait animation. The "coming out of destroyed Troll buildings" is OK, but fits better elsewhere? (eh, buildings made of enchanted wood -> chunks of enchanted,
angry
wood come out? lol)... Could just be a sort of "Buff" (tiki mask circling around target unit), but again, missing out on well-crafted animations...
Also strongly reminds me of Aku Aku from Crash Bandicoot, which is neat.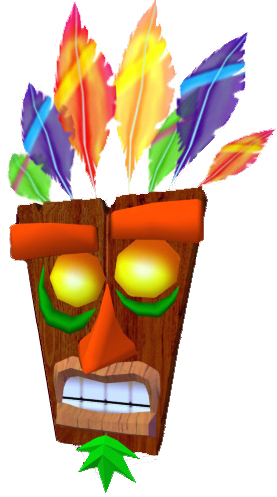 Alright, looking at it, I suppose more related in 'idea' than in actual 'form'. :< Still.

__________________