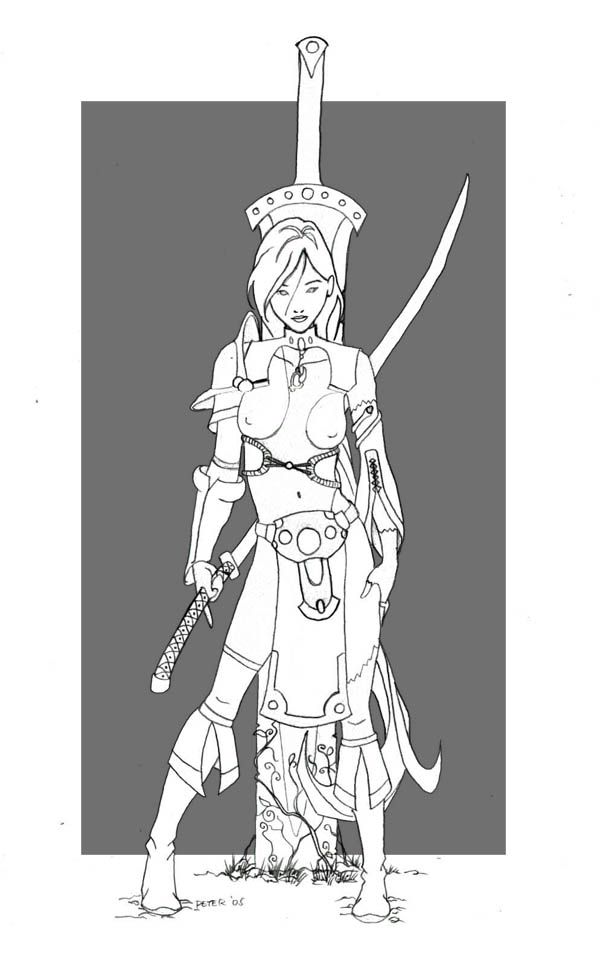 most of my 'fetishes' i guess you could call em, rolled into one picture. lets count shall we? fishnets, check.
ripped
fishnets, check. armored collar thing, check. asymmetrical, impractical shoulder armor that won't protect a single vital organ, check. sexy belt riding low on hips, check. boots with floppy things on em, check. ridiculously long samurai sword, check. ridiculously large sword, check. sexy chick, check. hey we're pretty much covered. now we just need some badass robot... hm... theres an idea.
drawn in blue, then traced over in black pencil. it was shaded and everything, but it was shaded with the blue. i did that cuz i wanted the lineart afterwards too, and if you wanna see the actual thing, i guess you'll have to visit me in california. sorry. but in any case, you get to see the cleaned up picture with a simple, yet effective contrasting grey background! whooo hooo! hm... looking at it now, i think it got a bit skewed near the top by the sword handle when i scanned it. oh well fuckit.