The biggest mistake EVERYONE makes, and especially newbies, is to draw stuff directly from imagination without any prior study of similar things. This results in some very, very distorted and awkward drawings, like in your case for example.
If nature with it's millions of years of evolution designed nearly perfect elements, why would you reinvent them in a manner you can't justify? I mean look at his legs...how could he even walk with those? Why are all his claws pointing downward, where else did you see that? What purpose could they have? What's with that tail that suddenly breaks at the middle? Why are the legs almost as big as his neck? And for God's sake, what's with those wigs? He couldn't even bend those things. Have you never seen a bat's wing? Why didn't you draw it like a bat's? Because it looks like it works perfectly. Did you thought that mutilating the wing like that would make it interesting? Under what justification? It doesn't even help the composition. And why do the cliffs look like tinfoil? And...is that a sun I see there near his head? If it is, is that how you see the sun? A circle with flames coming out of it? I thought it looked just like a very bright spot and you can't really make something out of it. Seriously, did you ever see flames out of the sun from here on earth? Because if you did, I want pictures. Also look how leaned to the right that dragon is...but that's because you're right handed and it's a natural thing (even erwt does it HA!) but you'll have to get over it in one way or another.
To sum up, you really, really need to have a solid documentation that will help you on what you're going to do. Draw lots of animals and insects so you'll have a broader palette of stuff to mix up and get influenced by and your drawings will look more understandable.
Now onto the coloring...just never ever touch the fucking smudge tool again. I'm sorry i have to be so harsh and sound like a control freak, but this is one of the things that you really must never do: blend colors with smudge. I mean just look how shitty and blurry it looks! I bet it looks great to you now, but trust me it's not. I know what I'm saying, I mean look how shit my first digital "painting" was, 3 years ago, smudged all the way: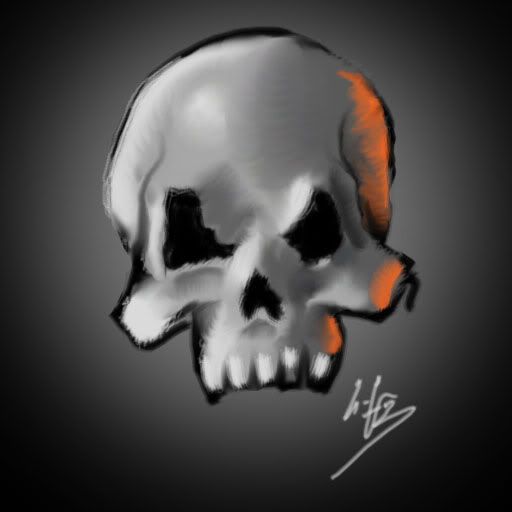 Looks like a pile of shit, but at that time I thought it was good. So yeah. THE method to blend colors is this:

http://www.wc3campaigns.net/showthread.php?t=82083

If you want an even smoother gradient you can use a little of the healing brush tool on that, it gives it a kinda watercolor feel.

That being said, I say you leave this thing as it is and keep in mind all the things I said so you apply them from now on.

__________________