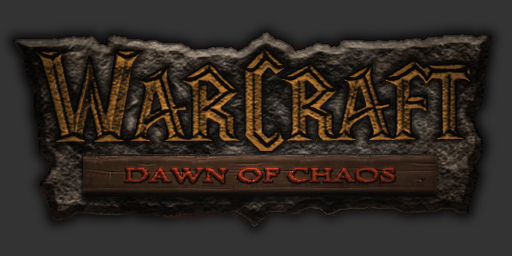 OPEN BETA
The Lion Roars, Chapter One: The Plains of Azeroth
Today we are releasing the first of what will probably become a series of open beta demos, containing the first mission of the Human campaign in Warcraft: The Dawn of Chaos. We have released full demos with multiple missions before, but this single map release does
not
represent a step backward. This map and the patch file which accompanies it contain ALL of the completed art necessary. Every model and texture required for the mission has been implemented. The mission has (temporary) voice acting, new music, a new user interface, new loading screens and game menus, and entirely new model and texture art. This is the first time we have released anything resembling a completed product. Although it is only a single mission, we feel that it represents the level of change and innovation our total modification project has to offer.
Players are encouraged to report any and all flaws with this product after playing. It has been extensively tested and represents a great deal of hard work by the team, particularly John Drake, and we would appreciate the opportunity to improve it in any way possible.
Please keep the following in mind while playing:
1) Neither the unit soundsets for Lothar and the Peasant or the interface speechfile have been included in this first release. We will shortly update the download to include them; they were omitted due to an unfortunate file corruption issue, and we wished to release the open beta on the day we promised we would. All mission and cinematic speech is included.
2) Lothar's voice actor is temporary.
3) There is only one mission in this release.
4) You should turn all texture options in Warcraft III to maximum before playing.
5) Hard difficulty level has not been completed; do not select it.
6) There are two very minor typos in the Runner's speech in the ending cinematic. These will be fixed in the next release.
You must consult the included Readme.txt for installation instructions. We are not responsible for the loss of your original patch file if you fail to do so.
If you enjoy this demo, please spread the word! Included in the download archive is a credits file; please give it a glance because these people make Dawn of Chaos possible.
DOWNLOAD TEMPORARILY UNAVAILABLE